Thank you!
Thanks to our Run for the Hills 2020 sponsors and participants for donating $5036 to the Greenbelt Trails Fund through this year's event! That is enough for 800 feet of new trail, or ten trail culverts, or 2.5 miles of gravel.
This community comes together in tough times and we appreciate everything you did to keep this fundraiser for trails and outdoor access going this year.
See The 2020 results.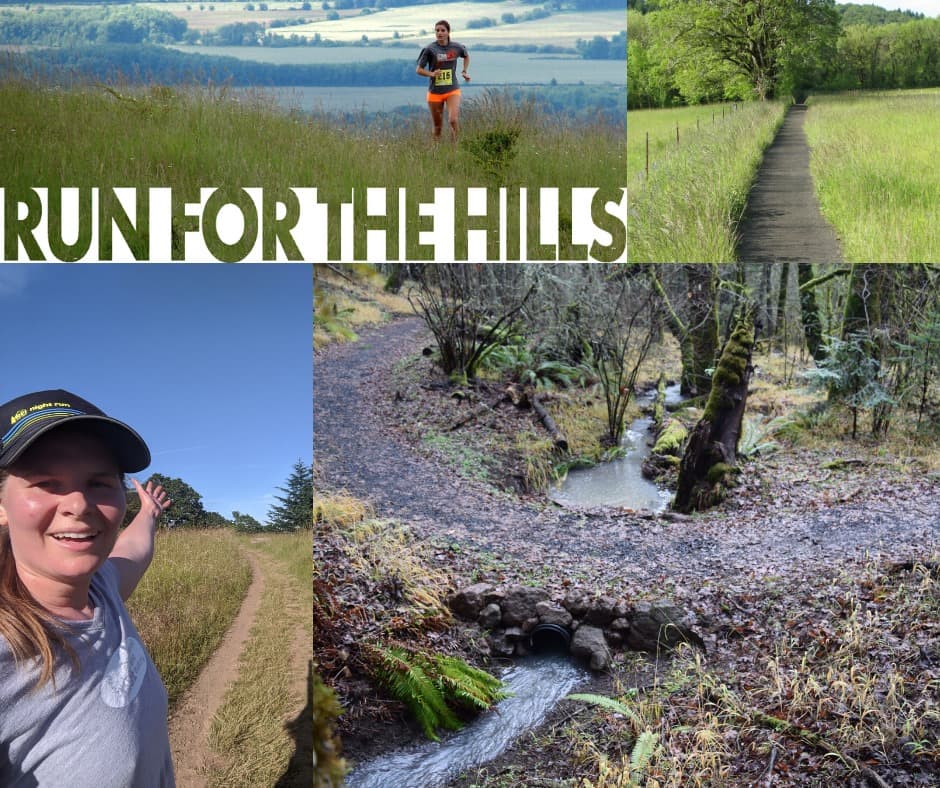 Scenic and challenging 30k and 8k trail runs at Bald Hill Park in Corvallis, OR with great views and fun courses. Easy 2 mile walk/run almost entirely on smooth paved path (except for last bit across gravel parking lot to finish) and 1/4 mile kids run are fun for the entire family. Benefits the Greenbelt Land Trust trail fund.
When
June 1 to June 30, 2020.
---
Courses
30k course
The 30k trail course uses the entire 8k course but adds a trip up to Fitton Green Natural Area for some awesome views, incorporating the Mulkey Ridge connector trail each way. The course will be challenging due to the hills, but the views and nice trails will make your work quite worth the effort.
8k course
The scenic 8k trail run consists of challenging hills and flat stretches in Bald Hill Park, with about 1.4 miles of paved path and 3.6 miles of dirt trails. There may be a surprise musical interlude at the top of the hill. Keep your ears open. There will be two aid stations.
2 mile & 1/4 mile kids courses
The noncompetitive 2mi run/walk is almost entirely on paved paths, 'cept for the last little bit across the gravel parking lot to the finish.
The ¼ mile kids run begins on the bike path and continues across the gravel parking lot to the finish.
---
Sponsors
---
Nancy Savage is proud to live, work, and run in the mid-Willamette Valley. Nancy understands the importance of communication, reliability, knowledge, and trust when buying or selling real estate. She genuinely appreciates the opportunity to represent her client's diverse needs.
---

Barnhisel, Barlow, Stephens & Costa, P.C
Silver sponsor
Our team of hard-working attorneys has over 100 years of combined law experience, creating a legacy of leadership and success. We specialize in business law, family law, estate planning, civil litigation, arbitration, mediation, and real estate law.
---
---
Race Benefit
Most of the trails in the Corvallis area are maintained by volunteers from groups like the Mary's River Chapter of the Sierra Club, the Greenbelt, the Boy Scouts and many others. Proceeds of this event benefit the Greenbelt Land Trust Trail Fund.
This fund helps purchase raw materials and equipment used for trail construction and maintenance by the volunteers who keep our trails safe and passable for users.
Over $60,000 has been raised in the last 13 years. Proceeds have been donated for gravel and supplies to support the City/County/CSC Youth Trail Crew that has worked on our entire trail system.
---